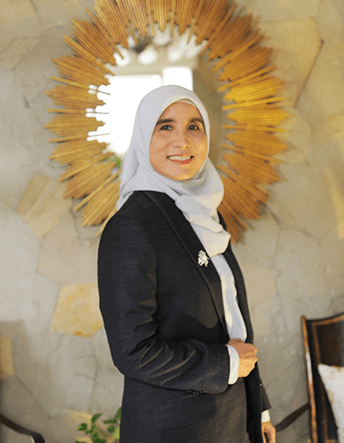 Zubaidah Jufri, S.H., M.Kn., CHRP.
Managing Partner
Zubaidah is founder and partner of SIP Law Firm. She has been in legal practice business for two decades. Her substantial experience in corporate commercial, corporate restructuring, liquidation and investment is remarkable. She is also an expert in resolving labor and land cases.
Experience & Expertise
Zubaidah spent her early professional work in NGO as an activist. She is experience in resolving human rights, women and labor issues.  Migrant Care (Sahabat Pekerja Migrant ) was one of NGO she worked for, where she resolved labor disputes and helped many Indonesian migrant workers safely return to the country. This experience has prepared her to be an expert in labor law.
Before founding SIP Law Firm together with Safitri in 2011, she has acquired wide range of experience in legal research and transactions related to permission, protection, development and exploitation in many sectors, including intellectual property.
With SIP Law Firm, her experience in handling property, health and domestic cases is also well-proven. Her legal advices and solution in these matters are highly appreciated by clients. She enjoys helping clients understand the law and assisting them to achieve their objectives.
Outside of work, Zubaidah regularly attends seminar and workshop on investment, economic sharia, energy and mining studies to improve her knowledge and keep up with the current affairs. She is also active in legal aid organization as supervisory board member and as committee in East Java based social and education foundation.
Education
Universitas Negeri Sebelas Maret Surakarta, Faculty of Law\
Universitas Indonesia, Master of Notary
Certification
Professional (CHRP)
Development Center of Accounting – Faculty of Economy and Business, University of Indonesia (Tax Training of Brevet AB+e-SPT)
Research Institution and Public Advocacy (Human Rights Training for Advocate – Generation X) from Friends of Migrant Workers
Mediation Center of Indonesia, University of Gadjah Mada (Postgraduate) – Certified Mediator
Membership
Member of Indonesia Bar Association (PERADI)
Publication