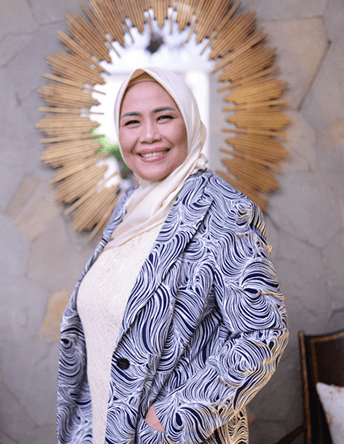 Safitri Hariyani Saptogino, S.H., M.H.
Partner
Safitri is founder and managing partner of SIP Law Firm. Her expertise in providing legal service is well proven and renowned for more than 20 years. Safitri has made it her mission to take every step as an act of devotion. That is why her clients appreciate her ability to manage every case with good will and high integrity.
Experience & Expertise
Passionate about helping others, Safitri contributes her ability to legal profession and the community. In the beginning of her career, she practiced law in several Non-Governmental Organizations. After few years she worked for local law firm, and decided to establish SIP Law Firm in 2011 with her partner, Zubaidah Jufri, S.H., CHRP.
She has broad experience advising and handling clients from a wide range of sectors – healthcare, property, mining, etc. Alternative dispute resolution is also one of her best virtues, and arbitration is her expertise.
Well-known for her exceptional communication and negotiation skills, Safitri is trusted to act as Mediator and Negotiator for many high-profile cases. She also performs as Curator (Trustee), in charge with the administration and liquidation of the bankruptcy estate of prominence companies.
Under her leadership, SIP Law Firm becomes one of the trustworthy law firms in Indonesia with three representative offices.
Membership
Honorary Board Member of AKPI
Deputy Secretary General of National Association of Mediators Boards Indonesia (AMINDO)
Members of National Mediation Center (PMN)
Certification
Certified as Administrator and Curator, issued by AKPI
Certified as International Arbitration in Singapore and Germany Recent Development organized by Singapore International Arbitration Center (SIAC)
Mediation Training, issued by PMN (National Mediation Center)Advocate Code of Ethics Training, issued by KKAI (Indonesian Advocates Working Committee)
Advocate Special Training, organized by PERADI
Administrator and Curator Training, organized by Ministry of Law of Indonesia in cooperation with Indonesian Administrators and Curator Association (AKPI)
Alternative Dispute Resolution Training, organized by BANI (National Arbitration Association in Indonesia)
International Arbitration Workshop, organized by SIAC (Singapore on Arbitration Center)
Publication